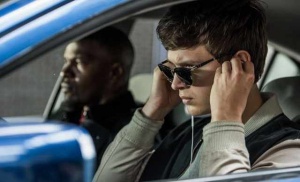 We review the heist thriller.
I'm not sure if there is such a thing as an instant cult classic, as to my mind a cult film has to pick up a following over time having been largely misunderstood and/or neglected by audiences on original release. However, if there were, Edgar Wright's new film Baby Driver would definitely fit the bill. It is, unquestionably, a blast of pure cinematic exhilaration that brings a fresh spin on the well-worn heist genre.
The "Baby" of the title (Ansel Elgort) is the getaway driver for Doc's (Kevin Spacey) heist crew. Baby has tinnitus so constantly listens to an iPod to drown out the noise, and has learned to orchestrate his superbly skilled high-speed pursuit manoeuvres to pop music. Thus, Baby Driver at times feels as much like a musical as it does pedal-to-the-metal thriller.
It gradually becomes apparent that Baby is no hardened criminal, but that an error of judgement as a child forced him into a life of crime. Consequently, Baby rubs shoulders with individuals that are either violent or, more dangerously, violent and inept. Furthermore we learn, in brilliantly deployed, hugely emotive flashbacks, about the loss of Baby's mother. As a result, Baby came to be looked after by deaf "Pops" (CJ Jones), although in his old age, Baby now is the one looking after him. Seemingly trapped, Baby finds a possible way out of Doc's clutches when he meets waitress Debora (Lily James) and romance blossoms. But will he be able to escape both the police and his employer?
Performances - especially from Elgort - are absolutely spot-on. In the wrong hands this could have been a disastrous mess but Elgort plays his character brilliantly, flitting between aloofness, charm and vulnerability with aplomb. As for writer/director Wright, not only is his witty screenplay perfectly judged, but his direction is 24 carat cinema, most emphatically during the genuinely thrilling, near operatic car chase sequences. One is reminded of The French Connection, Bullitt, The Blues Brothers, True Romance, Heat and most emphatically The Driver, but this is still a very unique beast, quite possibly Wright's best movie to date.
I should add the usual warnings for swearing and violence, for those who appreciate them, but Baby Driver remains a deliriously entertaining, very, very cool spectacle with laughs, thrills and heart to spare. I cannot foresee a scenario where it doesn't have a place on my list of the ten best films of the year